Beautiful Canvas Needs Artist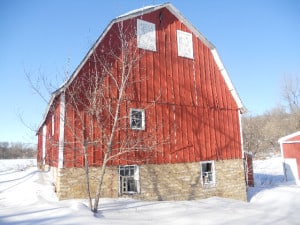 The picturesque Sogn Valley near Cannon Falls, Minnesota has seduced me. With no farming experience but a passion for sustainable agriculture we went and bought a 55 acre farm in this lovely area. The farm includes 25-30 acres of rich bottomland with a small creek running through it, the balance is south-facing woodland with old oaks, younger birches and, we're told, lots of morel mushrooms. The fields have been rented for conventional corn and beans but this year I'm planting oats and alfalfa to begin organic transition. There are two barns but no dwelling at present, though there is one building right with the property.
We bought this land because I think it has enormous potential: the soil is excellent, it is within an hour of a major market, it is near a transport corridor (Highway 52 runs from the Twin Cities to Rochester) and not far from a lively college town, Northfield, the hillside offers excellent solar resource in addition to its historic oak savannah ecology. But how do I realize this potential? I'm not a farmer, I'm a musician and scholar (ethnomusicolgy – go figger . . .). My dream is to find some folks who want to help creating a thriving, sustainable, resilient farm on this land integrating the fields, stream, woods and buildings. I don't know what the best crop choices will be, but I suspect that a variety of products will yield the best results: some critters grazing, small fruits or berries, wood for heat, small grains, CSA or market vegetables, maybe hops for the burgeoning local brewing scene. I'm expecting some serious trial and error!
We've only owned the land a few weeks so I'm overwhelmed with ideas and projects. But in the end I hope this will be home to a farm family of some sort that will thrive and, in time, take ownership of all or part of the enterprise. There are many, many steps between here and there but that's my dream. I wonder if there is someone out there who'd like to play in this sandbox . . .